Where technology meets nature
Renewable, Recyclable, Biodegradable: this is our Circular Store
Each UYN® Store is a new shopping experience. An experiential and cognitive space before just a shop. An immersion with all the senses into the UYN® world and its values of innovation and sustainability, technology and nature, performance and comfort.
Designed in harmony with nature, our UYN® Stores are based on a circular concept: materials come from responsibly managed sources and are recyclable. The entire furniture, from the checkout counter to the displays, is made of 100% recyclable cardboard. This allows each UYN® Store to be at the forefront of sustainability and environmentally conscious use of resources.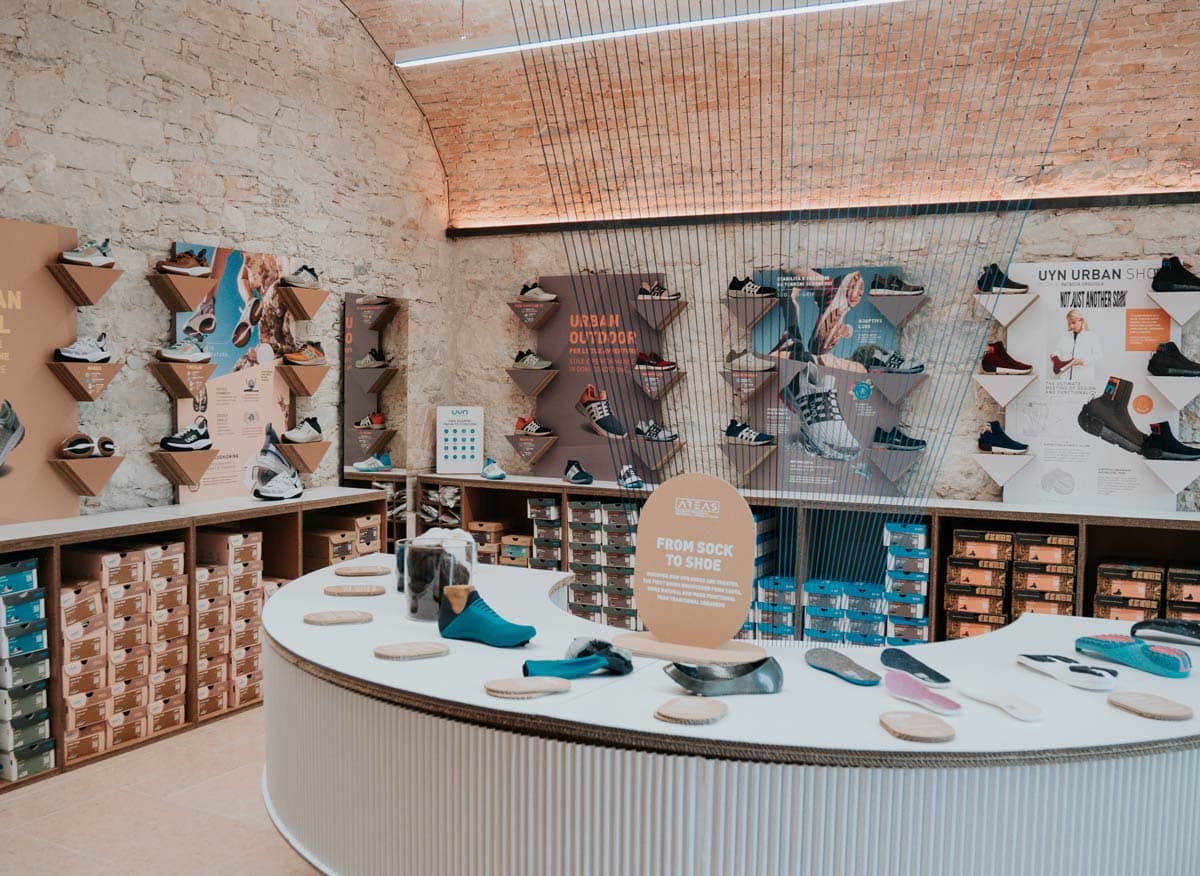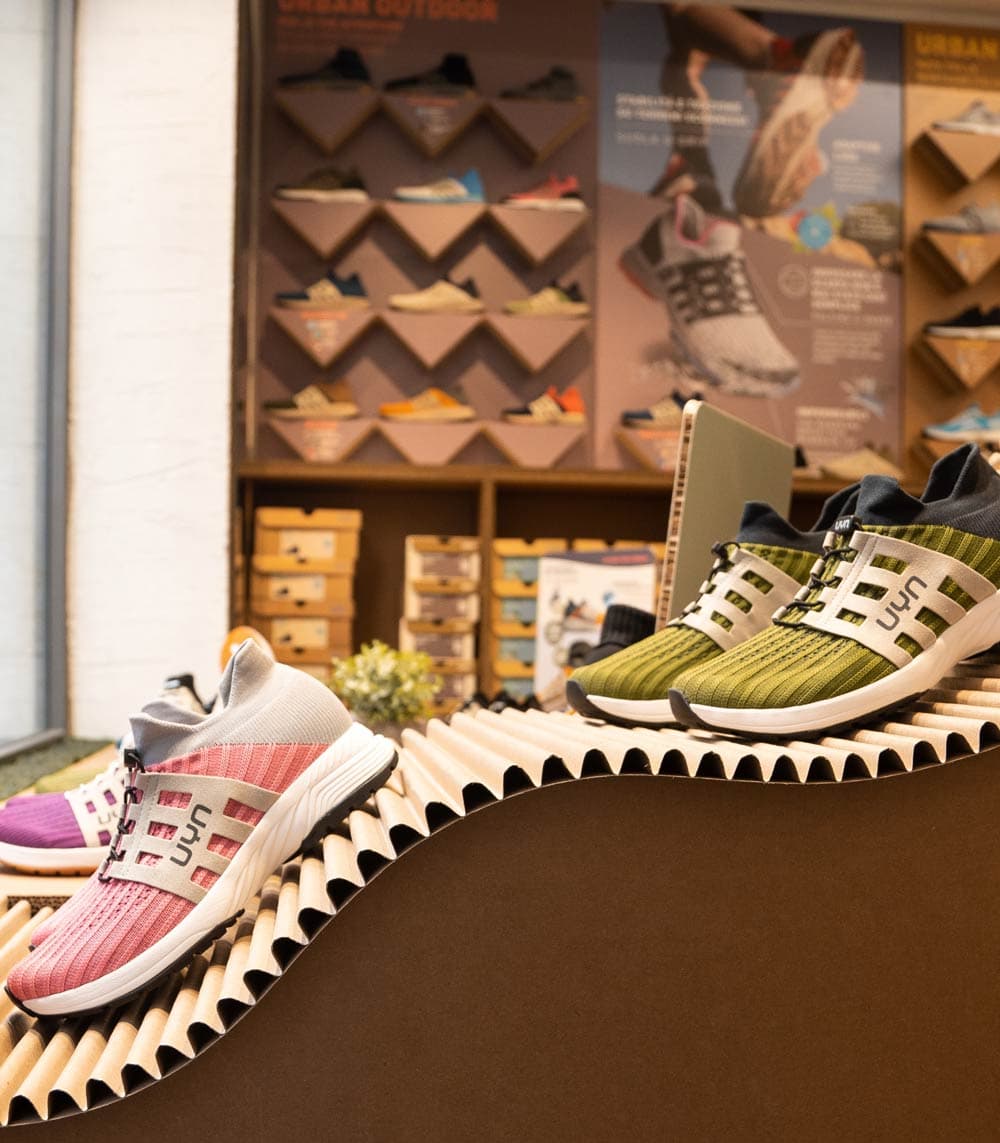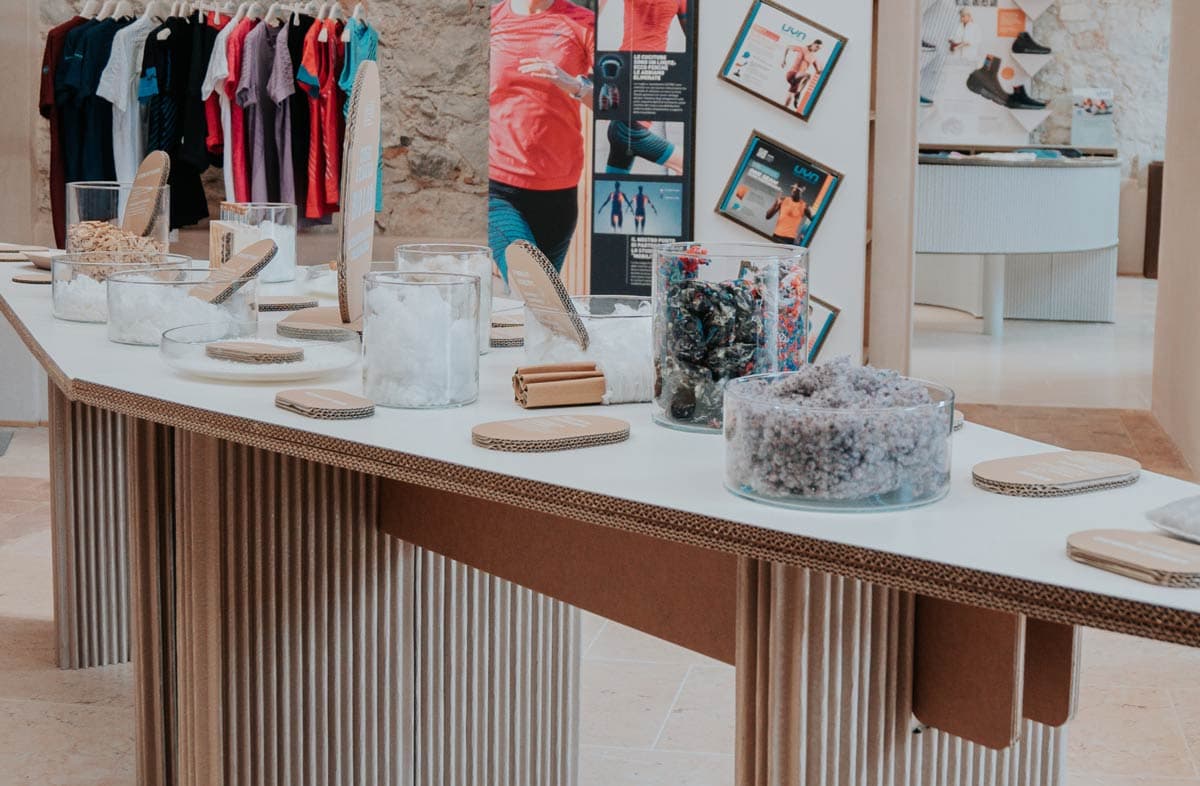 Bio Lab: touch and feel our nature-derived materials
Seeing is believing, but touching is convincing. In our stores you can experience our unique materials and products with all your senses. Discover our Bio-Lab and enter a new era of nature and technology.
Asola

UYN Experience Store

Via Parma, 62, 46041 Asola MN - Italy

Located in Asola (Mantua), next to our company headquarters, this refined 250 square metre flagship store captures the brand's values and translates them into a unique shopping experience.

Milan

UYN Store Scalo

Via Milano, 5, 20085 Locate di Triulzi MI - Italy

A modern 250 square metre space inside Scalo Milano shopping centre, on the outskirts of the most cosmopolitan Italian city - the capital of fashion and design. The shop presents all the UYN® collections dedicated to sports and fitness enthusiasts.

Brescia

UYN Store Elnòs

Via Luigi Einaudi, 5, 25030 Roncadelle BS - Italy

Inside Elnos shopping centre in Brescia, a reference point for shopping in northern Italy. In an elegant space of 150 square metres all UYN® apparel and shoe collections are on display.

Trento

UYN Circular Store

Via del Simonino, 10, 38122 Trento TN - Italy

In a central location in the prestigious city of Trento, this UYN® Store is made exclusively of recyclable cardboard, from the furnishings to the displays. In a space of 110 square metres, the brand's Biotech collections are on sale.

Peschiera del Garda

UYN Circular Store

Piazza della Serenissima, 5, 37019 Peschiera del Garda VR - Italy

History, design and elegance come together in this prestigious UYN Store located inside the stunning Officers' Pavilion (Padiglione degli Ufficiali), an imposing 19th century Austro-Hungarian building restored to meet modern comfort requirements. The senses are the absolute protagonists here in the discovery of UYN's Biotech collections.

Viareggio

UYN Circular Store

Via G. Marconi, 54, 55049 Viareggio LU - Italy

On Viareggio's renowned promenade, our Circular Store with furnishings made entirely of cardboard: 100% recyclable and environmentally friendly.

Salò

UYN Circular Store

Via S. Carlo, 6, 25087 Salò BS - Italy

A boutique dedicated to sport and functional apparel, in the heart of one of the most famous tourist destinations on Lake Garda.

Madonna di Campiglio

UYN Circular Store

Piazza Brenta Alta, 38086 Madonna di Campiglio TN - Italy

In the most refined tourist resort in the Dolomites, just a few metres from the arrival of the legendary Canalone Miramonti slope, three rooms are dedicated to winter sports and outdoor activities apparel.

Torbole

UYN Store

Via Giacomo Matteotti, 10, 38069 Nago-torbole TN - Italy

Located in Torbole (Trento), a true sports paradise between the shores of Lake Garda and the mountains. Outdoor enthusiasts can find the latest UYN collections and get expert advice from our qualified staff.

Rome

UYN Store Valmontone

Via della Pace, 00038 Valmontone RM - Italy

We are in the shopping district of Valmontone (Rome) with the latest high-performance collections for sport and everyday life.

San Ginesio

UYN Basecamp Store

62026 Pieca MC - Italy

Much more than just a shop, a reference point for outdoor enthusiasts. Located in the natural paradise of the Sibillini Mountains in the Marche region, our Basecamp Store organises trekking, orienteering, biking and yoga experiences for customers.

Zweibrücken

UYN Store Zweibrücken

Londoner Bogen 10 - 90, 66482 Zweibrücken - Germany

The UYN® high-performance collections and shoes are presented inside Zweibrucken Fashion Outlet.
Store Locator
You can locate your nearest UYN retailer with our store locator